The Randolph Foundation
About the Randolph Foundation
Mission:
The Randolph Foundation was created, and is sustained, by the residents and friends of Randolph, New Hampshire. The Foundation supports the needs of Randolph and its neighboring towns in a variety of areas including conservation, communication, education, recreation, town history, leadership, health and welfare, and other important issues as determined by the Board of Directors and the Randolph community.
The Randolph Foundation By-laws (1 MB pdf file format)
Board of Directors
Redza Dempster, President
Caesar Bryan, Vice President, Finance Committee
Rick Umiker, Treasurer
Jennifer DeMarco, Secretary
Mark Kelley, Member-at-Large, Executive Committee
Lauren Bradley, Ravine House Committee
Beth Krusi, Communications Committee
Maria Neal, Scholarship Committee
Garrett Rella, Grants Committee
Emeritus Board Members
Angela Brown
Sarah Gallop
Gaye Ruble
Annual Reports
A Lake is Born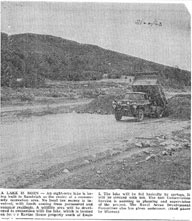 click here for original news photo
About the Randolph Foundation:
The Board of Directors meets five times a year to act on grant requests and scholarships, pursue projects, and follow up on investments and other concerns of the Foundation. The Annual Meeting of the Randolph Foundation is traditionally held on a Friday evening in August and is open to the public. Anyone interested in joining a committee or becoming a board member of the Foundation should contact Mark Kelley at: mckelley@mac.com.
The Foundation can be reached by mail at:
Randolph Foundation
PO Box 283
Gorham, NH 03581

Or by email at:
randolphnhfoundation@gmail.com
Publications | Scholarships/Grants | Lifeline | Durand Lake | About Us | Donations | Home